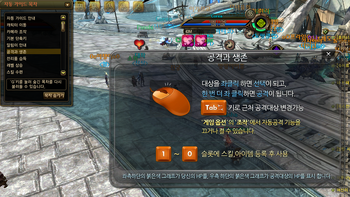 This is a function that gives automatic guidance TIPS needed for the game. At the appropriate time, an icon, "TIP!" is displayed in the middle of the screen. Once you click on it, you can view information required for proceeding with the game.
Introduction
This provides information to the player that is required for proceeding with the game.
When logging in for the first time after creating a character, the first Auto Guide begins when you click on the [Tip!] icon in the middle of the screen.
An explanation on Auto Guide is given, and the [Auto Guide Contents] notice is displayed at the top of the screen.
Auto Guide is broadly divided into 4 categories.
Basic Interface Guide
Character Movement
Basic Shortcuts
Camera Controls
Attack and Survival
Notice Information
CORE and Dragon Possession
Acquisition of Loots
System Information Guide
Skill Training
Chatting Instructions
Party & Expedition
Item Distribution
Trading with others
Trading with NPCs
Field Navigation
Radar
General Shortcuts
Collapse Damage
Character Seal
Mail Function
Item Reinforcement
Dungeon Entry
Quest Guide
PK System Guide
How to Use
To obtain suitable relevant information, you must first get to know your current situation enough to know what to look for.
Over time, you will become more familiar with the guide and know which items are most suitable for your situation from the [Auto Guide Contents].
After familiarizing yourself with the guide information, close the activated guide window by clicking the X button in the upper right corner.
___________________________________________________________________________________________
Ad blocker interference detected!
Wikia is a free-to-use site that makes money from advertising. We have a modified experience for viewers using ad blockers

Wikia is not accessible if you've made further modifications. Remove the custom ad blocker rule(s) and the page will load as expected.