Game Execution
Double-click Dragona Shortcut Icon in Windows Background
Launcher
You can access Dragona by pressing the Game Start button after update is complete in the launcher screen.
Server Selection
Select a server on the Server Select Screen
After selecting the server, you will be brought to the Character Select page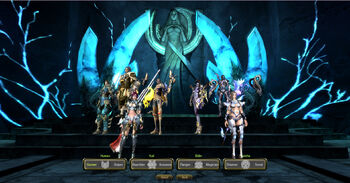 Job Selection
You can now select from the following jobs on the job selection screen.
UI
| | |
| --- | --- |
| 1. Auto Guide | Overall game tips on Dragona for beginners. |
| 2. Notice | A function that notifies you about quests, mail, guild messages, and the start of battle arenas. |
| 3. Chat Window | Chat Window for talking with other players. |
| 4. Basic Character Information | Here you can see brief info on character HP, MP, and Level. |
| 5. Mini-Map | A short-range map displaying your character's immediate surroundings. |
| 6. Target Information | View brief information on a target such as their HP, MP, and Level. |
| 7. Main Quick Slot | Here you can preset auto-actions to activate for your character conveniently |
| 8. Sub Quick Slot | Expansion of main quick slot. |
| 9. Transformation Quick Slot | Here you can set Dragon Transformation items to use more conveniently. |
| 10. Money Available | This shows the amount of money the character currently has. |
| 11. Menu Bar | A button that brings up a popup window of the game system menu to access character information, inventory, skills, quests, etc. |
| 12. EXP bar | Shows the current EXP of the character with a bar graph. |
| 13. PK Multi-Attack on/off: | Key for turning PK state on/off. When PK Multi-Attack is on, nearby characters can also sustain damage by area attack. It is off by default. |
___________________________________________________________________________________________
Ad blocker interference detected!
Wikia is a free-to-use site that makes money from advertising. We have a modified experience for viewers using ad blockers

Wikia is not accessible if you've made further modifications. Remove the custom ad blocker rule(s) and the page will load as expected.