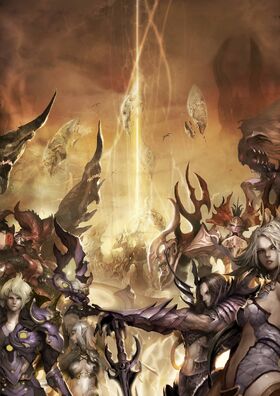 The Dragon Heart
The dragon heart is a blessing as well as a curse. A dragon's instinct to become powerful stems from his heart. So when the Dragonas inherited the dragon heart, they were instilled with a natural fighting instinct along with the capability to receive the tremendous power of the "Dragon Possession" which morphs their body into that of a dragon.
The Guardians
The Guardians of Magic Earth are the ultimate weapons of the Goddess. They are the only race capable of fighting against anything in the world.
The Dragonas inherited their bloodline from the dragons during the era of Dragons.
Born with the Dragon heart within their chests, each and every Dragona is a special being, a Dragon egg, as it were, that has the potential to save Magic Earth in the days to come.
The challenge of overcoming more powerful beings and surpassing them, seems to be the destiny of the Dragonas, and may be the reason for their existence.
Due to the intense struggle in the battle for power, either the one with the strong battle instinct or his opponent may be killed.
___________________________________________________________________________________________