Dragon Transformation is the process of temporarily borrowing the power of the dragons to enable the use of their power. This will transform the character's body either in part or full. Dragon Transformation is broadly classified into Partial Transformation and Full Transformation.
Introduction
Classification of Dragon Transformation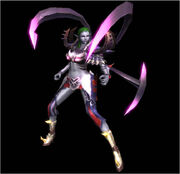 Dragon Transformation is divided up into two types : Partial Transformation and Full Transformation.
Partial Transformation
Partial Transformation transforms a certain part of the body and its appearance once an item is worn on either the head, upper body, lower body, or the arms.
Full Transformation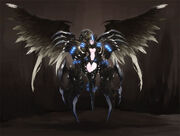 In Full Transformation, the character completely changes into a different form with its own special weapon.
Concept of CORE
CORE refers to the energy for using dragon transformation items, and must be replenished in order to maintain dragon transformation. CORE energy is used up as Dragon Transformation is sustained, and the rate of its consumption is dependent on the condition of Dragon Transformation. During a monster hunt, it will be at a certain percentage, and appear as a blue crystal ball, which will disappear over time. CORE is classified into normal and large depending on its size and absorption amount. Normal COREs are automatically absorbed when you approach them, whereas large COREs are automatically absorbed when you left-click them two times. In addition, Dragon Transformation is used for effective battle, dividing up roles while engaged in battle with other characters, or during group play.
Dragon Transformation Features
1. Powerful in battle between characters
2. Helpful for group play although its battle ability is not that powerful.
3. Specialized for solo play
___________________________________________________________________________________________
Ad blocker interference detected!
Wikia is a free-to-use site that makes money from advertising. We have a modified experience for viewers using ad blockers

Wikia is not accessible if you've made further modifications. Remove the custom ad blocker rule(s) and the page will load as expected.