Ad blocker interference detected!
Wikia is a free-to-use site that makes money from advertising. We have a modified experience for viewers using ad blockers

Wikia is not accessible if you've made further modifications. Remove the custom ad blocker rule(s) and the page will load as expected.
This is a job in which a thick titanium plate armor
is worn and an ethereal blaster is used that can launch a wide range magical attacks using magic scrolls.
Their skills are polished and refined from numerous battlefields which gives their comrades the faith that they will triumph.
These soldiers fearlessly go around the front lines in any battlefield to play the leading roles of the war.
Features of Gunners
Because the Gunners wear a heavy armor made by fully utilizing Dwarven technology, they completely trust in their powerful defensive power, and can fearlessly charge into any battlefield.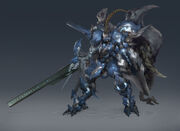 The only weakness of the ethereal blaster is its short range compared to normal magic and bow and arrow. But the powerful defensive capabilities of the armor made by Dwarf craftsman covers the downside of this.
The ethereal blaster, considered the most advanced magical weapon, deals heavy damage to multiple enemies in the front and rear ends. It also discovers enemies in hiding and annihilates them. Their shields alone can stop enemy attacks on the front lines, and raises their defensive power.


01:19

Class Spotlight - Gunner

01:14

Gunner Partial Transformation - Albireo

00:54

Gunner Full Transformation - Aldebaran
___________________________________________________________________________________________
___________________________________________________________________________________________