This is a function enabling users to store items in addition to the inventory space of the character. Storage is classified into personal storage and guild storage. Unlike personal storage, Guild storage has no limits of use.
Introduction
Storage refers to a place where a player can store additional items if the character's inventory is full. Storage is classified into personal storage and guild storage, and basically support 30 storage spaces, which can be increased by 4 slots. Using a basic storage space is free, but if you wish to increase slots, you need to pay a certain amount of money.
How to Use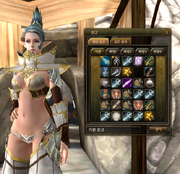 If you click on Storage NPC, the following storage interface is activated.
Personal Storage: This is a space used only for individuals. It basically has 30 storage spaces and supports an additional 4 slots. You can only store items excluding game money, and if you wish to increase the slots, you will have to pay a certain amount of money. Personal Storage can only be used by one individual.
* Personal Storage cannot be shared between accounts or shared with other users.

Guild Storage: This is a storage only usable when you are part of a guild. You can only use the slots if your classification in the guild is authorized to use them. The types of guild members are: Guild Master, Elder, Guard, Regular Member, and Pending Member. If a player is a Pending Member, he/she cannot use the Guild Storage. It is only available for Regular Members or higher. Only the Guild Master can change the authorization for use and expand the Guild Storage. As in the Personal Storage, it can be increased to a maximum of 4 slots, and additional slots will require a certain amount of money.
___________________________________________________________________________________________
Ad blocker interference detected!
Wikia is a free-to-use site that makes money from advertising. We have a modified experience for viewers using ad blockers

Wikia is not accessible if you've made further modifications. Remove the custom ad blocker rule(s) and the page will load as expected.